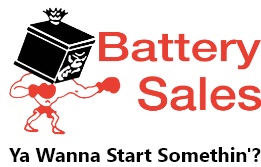 Battery Sales
Wholesale Battery Distributor - Retail Battery Distributor
Wholesale battery distributor of the industry's most reliable batteries and battery related accessories since 1962 in the USA, Caribbean, and Latin America.
Since 1962 Battery Sales has been exporting and distributing the industry's best batteries and battery related accessories. We specialize in delivering quality products, providing excellent customer service, and sourcing hard-to-find specialty batteries. Looking for automotive batteries, commercial batteries, renewable energy batteries, marine batteries, or industrial batteries? How about motorcycle batteries, ATV batteries, Jet-Ski batteries, alarm batteries, or UPS batteries? We have all of these types in a variety of battery chemistries: such as; AGM (Absorbed Glass Mat), GEL, Dry Charged, Sealed Lead Acid, Maintenance Free, and the industry standard lead acid types.
Most batteries are in stock, ready to ship the next day or within a few days (with the exception of special orders). Please browse our user-friendly website. If you are not able to find your battery or accessory, give us a call or send an email. Battery Sales has a team of knowledgeable battery specialists who can assist with battery design, placing a standard order, cross referencing battery brands, and sourcing hard-to-find specialty batteries. Thank you for using Battery Sales!
Visit our website here.
Inverters and Converters - and why RV's Use Both
When it comes to electricity, understanding important dissimilarities can mean the difference between a fun time and a hazardous situation.
For example, RV's, unlike cars, use both types of electricity – AC and DC – in order to travel as well as fully take advantage of all their accommodations. However, some of the more technical components involved with powering one, such as inverters and converters, can overwhelm the casual traveler often leading to lax servicing or worse. But in reality, these are simple terms that can be explained with a few quick tidbits that will maximize entertainment during your nomadic experiences.
In other words, there's no excuse not to learn a few quick tips brought to you by your favorite wholesale battery distributor. So here's Battery Sales USA to break down a few basic things about inverters, converters, and how they help turn an RV into a home on wheels.
Like us on Facebook
Follow us on Twitter
Follow us on Linkedin
Follow us on Pinterest
Follow us on Instagram